Have you ever thought about interviewing the interviewer? Well a few weeks back I got the chance. Today's research spotlight is Bob Lederer, President of RFL Communications. His newsletters are a must read for me month after month. I have known Bob for a number of years and he is one of the rare individuals that I learn from with every interaction I have with him.
I hope you enjoy getting to know Bob a little bit.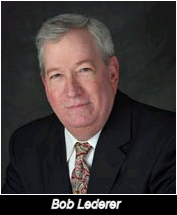 MD
What advice would you give entry level market researchers?
BL
They should tap into as many individuals and reliable sources (sorry to be self-serving, but like our newsletters) as possible. Every time I speak with a recent graduate, I hear validation that their perceptions of the industry while they were in school were so far from the reality they face on the job. Alumni from two of the MR grad school programs have purchased our newsletters for the program to help the students get better in touch with the facts.
It also appears undeniable that even if you want to work on the client-side that starting your career on the vendor/agency side is preferable for the pure learning experiences they offer.
I'd also strongly encourage them to think big. I think the MR industry is one of the most fascinating businesses to be in, and I've been fortunate enough to have worked in several. The business world is brimming with new opportunities, but you have to discover one or more that resonate with you, and then set on the long and challenging journey to live your dream and reach your goal.
MD
You are very involved in respondent cooperation. Why is this so important and what do you hope to accomplish?
BL
We believe respondent cooperation continues to be a crushing industry problem. That's why we developed and set up the "Industry Summit to Improve Respondent Cooperation" last year. It will take years for any significant change in respondent attitudes to been seen, so we will see how CMOR's efforts this year take effect.
That being said, we have moved on to the far larger concern of data quality. There are few vendors or clients who don't recognize the many questionable things going on in data collection that are leading to data quality issues. A significant part of it is simple quality control, and then there are the industry's relatively new technologies and methodologies that have not worked the kinks out yet. Many vendors are understandably reluctant to discuss these problems with clients, and to be fair, there are a huge preponderance of clients who don't give the time to their vendors to discuss these things.
That's the reason we just staged our "Client Summit on Research Data Quality" in Chicago last month, which the 60 participating clients from 45 different corporations seemed to strongly feel was a major success. They learned from their peers about some of the less-than-obvious issues that every client is facing in its data. The vendor/agency community will be hearing from these clients–a consensus of first steps that should be taken to start the process of improving data quality. And we're hoping to build on that client base, both to raise the understanding of clients across the country and their support/involvement in rectifying the difficulties and enhancing the research they use to reach conclusions and make recommendations.
MD
Are you on track to accomplish your goals?
BL
We'll let you know by the end of this year whether the clients have come to terms with what they have to change, whether the vendors make adjustments based on clients' suggested guidelines. We need both for there to be progress.
And our company goals are changing as we evolve into something more than just a publisher for the MR industry.
MD
You go to a lot of conferences and see many presentations. Who do you get most excited about and why?
BL
I find it increasingly difficult to sit through a presentation because I hear so many of them at so many venues. You have to get my attention in the first five minutes, or I'm on to something else. I like a speaker who "is out there." Someone who wants to present in a creative way. Then there are those who, knowingly or unknowingly, make a point of not repeating what others have said before. There are industry leaders who are always doing something new and different, and who reinvent themselves or the ways they go about their jobs .We don't see it that often, but when we do it's energizing. If I find 2-3 presentations at a conference that I can review in our newsletters, that's par for the course.
MD
What changes would you like the market research industry to make over the next 3 years?
BL
I would like to see more cooperation and cohesion between the research associations. It is odd that the associations in Canada, Brazil, Mexico and the UK have found ways to get beyond their differences and coalesced the constituencies into one national association. Can it happen here? Come to think of it, maybe we are on the right track and the U.S. should wait to see how things work out in those other countries. Still, there should be much better cooperation between ARF, CASRO, MRA, etc., and I don't like what I see vis-a-vis ARF and ESOMAR.
MD
What exciting things are on the horizon for RFL Communications?
BL
We revised our business model this year after recognizing in 2006 that our business had evolved way beyond a publisher of market research newsletters. We were being asked for advice, counsel; we are being invited more and more to speak. We're staging research conferences that could elevate the industry, like "The Client Summit." We want to help lead this industry and feel fortunate to be in position to make some things happen that associations can't or won't get involved with. We're looking to innovate here and even in the types of presentations we make (i.e., "live interviews" at conferences).
MD
What would people be surprised to know about you?
BL
Uh oh! I'm a major New York Mets fan, and I've also been fascinated by Al Jolson since I saw "The Jolson Story" when was 10 years old. I visited his gravesite in Los Angeles during my attendance at "The Market Research Event." He was an unbelievable egomaniac, but at the same time an unbelievable entertainer.
###
About Bob Lederer:
Bob Lederer is President and Founder of RFL Communications, Inc. (Skokie, IL), a multi-faceted specialist firm dedicated to providing the market intelligence/media research/consumer insights community with knowledge, insight, advocacy and consultation.
Lederer is best known as Editor & Publisher of the company's four acclaimed MR industry newsletters focused on business-oriented MR industry news and transferable information to help research agencies and research clients improve their performance. They offer a unique mix of revolutionary client-side research strategies and technology-rocking supplier-side thinking and capabilities.
Lederer joined Keller Publishing in 1974, becoming Editor & Associate Publisher of Beverage World Magazine by 1979. In 1983, in an unparalleled career transition, he moved to Royal Crown Cola Co., serving as Assistant to the President and later Brand Manager and National Accounts Manager.
From mid 1985 through 1986, Lederer was a National Accounts Manager for The NutraSweet Co. At Actmedia, from 1987-1992, he established and eclipsed sales records within the business' promotion products area. In 1993, Lederer started his own in-store couponing and sampling company, Marketplace Solutions, which was sold to Sunflower Co. in 1994.
RFL Communications debuted Research Business Report in January 1995. Research Conference Report rolled out in May of 1997. In 1998, Research Department Report was introduced. In 2004, Pharma Market Research Report became the world's only publication devoted exclusively to MR interests and challenges within the pharma, healthcare, life sciences and medical device fields.
For more than a decade, Lederer has been a respected industry personality and sought-after speaker. Regularly addressing association and private events, one of his signature presentations is a "live" interview.
Most recently, Lederer has been credited with helping the industry take a fresh look at a long-standing industry problem. In 2006, he conceived and spearheaded "The Research Industry Summit: Improving Respondent Cooperation," which became the foundation for renewed industry respondent cooperation efforts and inspired a broad, emerging interest in data quality.
Lederer is a 1974 graduate of the State University of New York at Stony Brook (BA-Political Science).