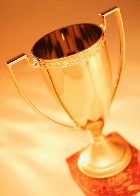 Last week I had the opportunity to attend the Marketing Research Association (MRA) fall conference and among the many solid presentations there was an award presentation. Colleen Moore Mezler, President of the MRA, presented the annual ward.
Each year, the MRA recognizes one company to receive the Celebrated Company Award. The purpose of this award is to recognize a company who has provided outstanding volunteer efforts and/or who has shown outstanding support at the national and/or chapter level for five years or more.
This year, this award will go to a company that began in the garage of a New Jersey home, where the founder started her business in 1966.
For over 40 years, this company has provided data collection services that have helped companies understand and realize their potential in the marketplace, and has established high standards of professional, courteous and quality service. In addition to 13 established research facilities in major cities across the U.S., they also acquired a London-based research company in January 2006.
At the local and national level, this company has consistently provided outstanding volunteer efforts and has shown great support to both the Marketing Research Association and the opinion and marketing research profession. This organization has been instrumental in many events, programs and boards and has ultimately had a profound influence on the MRA and the industry it represents.
With significant current involvement on the chapter boards in Southern California, Atlanta/Southeast, Philadelphia, and Greater New York, and current representation on the MRA National Board, it would be difficult to find a company who is presently allowing so many of its key members to volunteer at such a high level for our association and profession.
The MRA's Celebrated Company Award is the highest honor a company in the marketing research profession can achieve. Past recipients of this award include CfMC and Galloway Research.
It is hard to imagine what the MRA would be like today without the contributions of this company. So it is with respect and appreciation for their achievement that we say "congratulations" to Schlesinger Associates and The Research House for this award honoring 40 years of exceptional service to this great industry.

When Debbie and Steve were on the podium they accepted the award for their family. That word means something different to them — because to them, "family" is everyone who works with them–from the hundreds of part time or full time employees who have spent years and years at the company, to the new employee who started last week. Knowing them as I do, I am sure they were all choked up in accepting the award and wish their Mom Sarah could have attended the ceremony.
If you haven't had a chance to meet them you should. All of their staff are very special and care deeply about this great industry.
Again, congratulations, Schlesinger Associates. You deserve to be the recipient of the 2007 Celebrated Company Award.
Please feel free to post any well-wishes to the Schlesinger team. I am sure they would love to hear from you.