Last month, I had a wonderful experience. I had the honor and privilege to go back to my alma mater and present to an MBA Class at Hofstra University in Long Island, NY.
During Dr. Joel Evans' Marketing 248: Strategic Decisions For Internet Marketing class I had the opportunity to present the research industry and online research.
One of the main reasons I have donated time to committees over the years is I always felt a need to give something back. Being at Hofstra was another opportunity to do just that.
I truly LOVED every minute of the four years I spent on campus. I literally grew up on the campus and was able to mature way beyond my wildest dreams.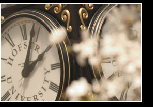 My time spent at Hofstra last month was very special. It started with a tour by Ben Vogt, Senior Director for Major Gifts. The entire time I was walking around, I was thinking about my experience there 20+ years ago. My first few days where I met roommates Kenny Woods and Barry Packer. I looked at the ball fields where I recall scoring a touchdown and spraining my ligaments or a restaurant/bar where I had a few too many. I could close my eyes and hear the music of Nick Lowe or the B-52's ringing in my ears from concerts in 1982. I remember meeting friends like Diane Harsch, Mike Wagner, Mike Aarons, Eli Magids, Barry Scholtzman and Kathy Dutke for the first time. I remember eating my first Blimpies sub at 4:00am.

The university has come a long way. I always said there was more to learn out of the classroom than in the classroom, and for me that has worked. What a great trip down memory lane. The school is even more beautiful than I remember it.
The night continued with a nice dinner with Salvatore Sodano, Dean Zarb School of Business and Ben. If you had told me 20+ years ago I would be having dinner with the Dean of the business school I never would have believed you. Sal was a very passionate, energetic and interesting guy. He was the CEO of the American Stock Exchange prior to accepting the Dean position at Hofstra.
Over the years, I have presented at many conferences, colleges and universities. I don't usually get nervous. At Hofstra, I must admit I was a little anxious. . Sal, Ben and Joel thank you so much for a night to remember. To the students of Marketing 248: Strategic Decisions For Internet Marketing class my hope is that you learned one thing – one thing that can impact your life or career in a positive way. If I was able to accomplish that, then my goal was met.
During dinner Sal had mentioned that there were 105,000 alumni from Hofstra. For that one night, I was on top of the world and was the luckiest one of all of them.
Thank you for bringing back the memories and creating new ones.
What were you doing the last time you felt like you were on top of the world?
Have you ever presented at your alma mater?
If so, how did you feel?
I look forward to your comments.