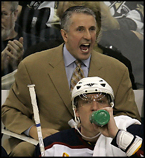 Have you ever had a bad month at work? You didn't feel well and couldn't perform at your normal level. How about you had a few things happen in your personal life that you couldn't block out and it spilled over at the office. If you said yes to either of those scenarios and you work for The Atlanta Spirit, LLC and Bruce Levenson you might get FIRED!
Yes, I said fired.
Out of a job!
Shown the door!
Bye bye!
That is exactly what happened to Bob Hartley.
Bob was the coach of the Atlanta Thrashers, an NHL team. Unfortunately, the Thrashers lost their first six games this season. Bob was head coach for over three years so it wasn't like he was a rookie on the job. You are probably asking yourself, "how was his team's performance prior to this year?" Good question! Last year his team finished first in the Southeast Division.
When General Manager Don Waddell was asked about a replacement, his response was "he might look for a coach that is less intense than Hartley" I wonder if Waddell didn't like Hartley's intensity last year while he was winning the division.
I must admit I am not a huge fan of the NHL or the Atlanta Thrashers nor am I a BIG FAN of firing someone if they have had a bad month.
What do you think?
Do you agree/disagree?
I look forward to your comments.
P.S. I have had a bad month before and I didn't get fired!