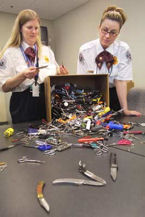 Security screeners at two of the nation's busiest airports failed to find fake bombs hidden on undercover agents posing as passengers in more than 60% of tests last year, according to a classified report obtained by USA TODAY. I had to read this twice. Yes I am in shock.
The article stated that screeners at Los Angeles International Airport missed about 75% of simulated explosives and bomb parts that Transportation Security Administration testers hid under their clothes or in carry-on bags at checkpoints, the TSA report shows.
At Chicago O'Hare International Airport, screeners missed about 60% of hidden bomb materials that were packed in everyday carry-ons — including toiletry kits, briefcases and CD players. San Francisco International Airport screeners, who work for a private company instead of the TSA, missed about 20% of the bombs, the report shows. The TSA ran about 70 tests at Los Angeles, 75 at Chicago and 145 at San Francisco.
The report looks only at those three airports, using them as case studies to understand how well the rest of the U.S. screening system is working to stop terrorists from carrying bombs through checkpoints.
I thought that we had better security now than ever. Is that not the case? We are spending billions of dollars on airport security and nothing is improving. Yes, I have left a bottle of water in my briefcase or gone over the three ounce limit on my toothpaste in the past month and yes they went unnoticed. I didn't think much of it but maybe I should.
The article also mentions that tests earlier in 2002 showed screeners missing 60% of fake bombs. In the late 1990s, tests showed that screeners missed about 40% of fake bombs, according to a separate report by the Government Accountability Office, the investigative arm of Congress.
SO WE ARE SPENDING A TON OF MONEY — FOR WHAT?
Are you surprised by this?
Do you notice a difference with security now than in the past?
Does security appear to be tighter when they raise the warning levels?
I really look forward to hearing your comments.