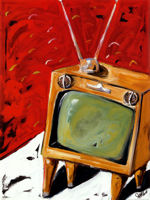 Part of me loves to try new things and always push the envelope a little bit. Well today is no different. Today we will try and play a TV game show on the Blog. The game show is the Power of Plus or Minus 10, where contestants will try to accurately predict our respondent base's answers to intriguing poll questions. On one popular game show, the winner gets $10 million dollars — sorry but that won't be happening here. However we will have a few lesser prizes for the top two people assuming we get over fifty responses.
Drew Carey's The Power of 10 reaches out across America to poll thousands of people and ask them, well, just about everything – from "What percentage of Americans said they were virgins the day they got married?" to "How many Americans believe they are smarter than President George W. Bush?"
Just for fun, we did something similar. In the past two weeks M/A/R/C Research interviewed 5,800 Americans. The way this will work is this: Please click on the link below and answer the 7 questions in our little survey. We will total your answers and when we post your response, we will tell you how far away you were. It doesn't matter if you are over or under the total. The top two people who are the closest in total to the seven questions will be the winners.
Unfortunately since we asked the staff at M/A/R/C to participate internally I would ask that they not participate in this contest.
Look for the right answers and winners to be posted on December 1, 2007. Remember…the lower the score, the better.
Good luck to all!