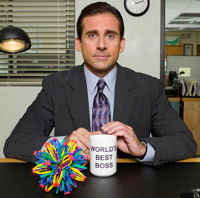 Insert chips into the staff…
You probably heard that the writers of TV shows are on strike. If it isn't settled quickly, get ready to watch plenty of re-runs in the next month or so. I don't watch as much TV as I used to…well actually I do but I don't consider Sponge Bob, Tom and Jerry and Scooby Doo great TV.
One of the shows I really enjoy is The Office. The show premiered almost three years ago in the United States after a very successful run overseas. Here is a list of the show's stars: Steve Carell, Rainn Wilson, John Krasinski, Jenna Fischer, B.J. Novak, Ed Helms, Leslie David Baker, Brian Baumgartner, Kate Flannery, Melora Hardin, Angela Kinsey, Oscar Nuñez, Phyllis Smith, Paul Lieberstein, Mindy Kaling, Creed Bratton and Craig Robinson.
I am going to assume most of you have watched the show, but in case you haven't it is described as a fly-on-the-wall "docu-reality" parody about modern American office life. "The Office" delves into the lives of the workers at Dunder Mifflin paper supply company in Scranton, Pennsylvania. Regional manager Michael Scott (Steve Carell) is a single, middle-aged man who is in charge and is the tour guide for the documentary. Michael believes he is the 'World's Greatest Boss" and has a mug that proudly sits on his desk to prove it. His staff puts up with him and at times BARELY tolerates him.
Ok so that gives you a little background of the show. Today is creativity day. Today is the day that we help the show. Because today is the day that you use your creativity and develop a thirty minute show for The Office. Your motivation could be a few things:
You are bored and need something to do
You always wanted to do this and now you have a chance
You TRULY believe that this is a great idea and know that I will send all of the ideas to the show's producer
Here is what my show would be about: The Dunder Mifflin gang has been coming in late day after day, week after week. Not only are they coming in late but the last few days people are taking very long lunch breaks. In addition Meredith didn't even come back and decided to take the rest of the day off without telling anyone.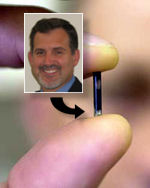 Steve Carell was watching the Animal Planet the night before and saw this really cool show that discussed microchips. The show was talking about keeping an eye out for your pet at all times. Millions of dogs and cats, horses and birds now carry microchips. Michael is very excited that the chip only takes seconds to administer so everyone can get back to work very quickly since he is all about running a very efficient office. The chip contains a one-of-a-kind identification number and is recognized worldwide.
Michael loves this idea and feels that he would be able to solve his tardiness issue. He is having the company come in next week and install the scanners in the front of the office therefore knowing at all times where everyone is during the day. Of course the Dunder Mifflin staff is appalled and wants nothing to do with these chips and they threaten to discuss Michael's idea with corporate.
At a 30,000 foot level that would be my show.
What do you think?
What concept do you have for your show?
Who knows what will happen to these ideas? Perhaps NBC will take one or two of them. Perhaps they will be nabbed by writers and claimed as their own. Perhaps nothing. There are no guarantees, just the opportunity to have a little fun.
I look forward to reading your ideas and hopefully sending them on to NBC.