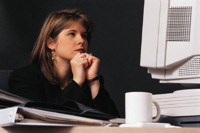 All of us have probably looked at a situation and can't detect the problem. Whether it is a DVD or any piece of technology that just doesn't work for some reason or your car just won't start. You have NO idea what the problem is so you have no idea what the solution might be.
I must say that doesn't appear to be the issue in the market research industry. All of us know what the issues are. In fact we have known what the issues are for years — many years. I recently sent out a quick email and asked people what they thought were the top three or four issues with data collection. There were a number of common themes:
Length of questionnaire
Boring, repetitive, poorly written surveys
Declining cooperation rates
Great variation in quality across online sample providers
As a follow up, I presented at the CASRO Data Collection conference in November and you just read my presentation. That's it. Short and sweet. I started listing the current issues in the research industry and launched into what I hope was a step toward a very productive brain storming session.
Isn't it about time to do something about it?
Isn't it about time that we all work together to make things better to solve some of these issues?
What do you think the research associations should do?
What can clients do?
What can your company do?
THIS IS VERY CRITICAL TO THE LONG TERM SUSTAINABILITY OF THIS GREAT INDUSTRY.
If there is only one posting you comment on the next year — please make it this one.
I really look forward to your comments and suggestions.