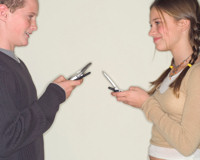 Now I have your attention — was that spelling errors or much more? Did that really mean something? Probably to some people it didn't but probably we are too old to understand it.
That was probably a conversation between two teens. That means nothing to me but everything to them. To teens the translation is "Many parents don't believe there is a generation disconnect between them and their teen."
Even though I don't have any teens I do believe that statement is true. Often I will look over my niece's shoulder, trying to see what she is texting or instant messaging her friends and frankly I have no idea. Actually this should be a new reality game show — HOW TO COMMINICATE WITH YOUR TEENS or instead of the game categories it could be Adults, What Does This Mean?
That would not only be hilarious but meaningful to many of us. Since my kids have a long way to go to be teens I thought I would get a jump start on trying to communicate with them in the next decade. I do realize that the "teen" language might be totally different but I am willing to learn this language now since I am fearful that the only way I will communicate with them is through technology.
Sure I know some of the easy ones:
ASAP
As Soon As Possible
FYI
For Your Information
BBL
Be Back Later
BBS
Be Back Soon
DWD
Dude
FOFL
Falling on the floor laughing
GFN
Gone for now
LTNS
Long time no see
N1
Nice One
TNC
Tongue In Cheek
TTYL
Talk To You Later
My fear is, there is a ton that I don't know – please help me!
Do you know the secret "teen" language?
If so, please respond with some helpful hints and hopefully some new words so I can expand my "teen" vocabulary.
I look forward to hearing from you.
PS — How long will it take for advertisers to start using this language? Maybe they are and I just have missed it.