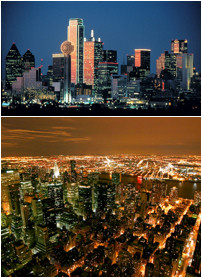 I have a feeling that title may have gotten your attention. Perhaps you were thinking that the Bostonian turned Texan was going to be a New Yorker. No, I am not moving. But a friend of mine did.
My friend is a single female in her 40's who doesn't know much about New York. She lives with her little dog in the 30's on the east side and is LOOKING FOR OUR HELP!
Since the holiday season is upon us, I thought we could start to build a list of recommendations from the readers of this blog to make sure she feels at home and starts to make a new life in the Big Apple.
Steve, Matt, Joan — how about a few restaurant recommendations?
Patty, John, Dale — how about a small park to walk her dog?
Jon, AJ how about a sports bar or two?
Does anyone know of a good dry cleaner in the area?
Greg H — how about a good car service?
Anyone got a tailor they love?
What about someone to fix her heels that just broke on the sidewalk?
Remember when you moved to a new town and people gave you recommendations — now is the time to give something back and help someone.
How about a cute breakfast spot?
Who has the best corn beef in town?
Where is the best place to hear live music?
What is the hottest club in town?
Tiffany – where is the best place to buy chocolate?
What about a single, nice guy? (sorry TA)
Joan — what about a kosher deli?
Steve what is the name of the falafel place near NYU?
What's the best museum to see?
What Broadway play would you recommend?
Thank you in advance for your comments and recommendations. I know she will really appreciate it as well as I do.
Happy holidays!