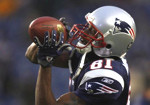 I thought that title might grab your attention. As I am writing this, history is in the making in the National Football League. The question is how do you feel about it?
When I travel around, people can tell where I'm from fairly quickly. If my accent doesn't give it away they sometimes look down and see my red elastic bracelet that is always on my right wrist. The bracelet is for The Jimmy Fund (children's cancer) and the Boston Red Sox. Shortly after they find out I am from Boston they give me their opinion on something. Typically it isn't always about the Red Sox or even the sport of baseball. They switch gears and move to football.
They give me their opinion on the New England Patriots, and most times it's a very strong opinion that isn't positive.
Why is that?
Is it because they have won three super Bowls this decade?
Is it because they dislike the all-American look of Tom Brady
Is it because Bill Belichick shows little to no emotion
Is it because they have never liked Randy Moss?
Is it because they hate the city of Boston?
Or is it really because of SPYGATE?
When you review the history of this franchise:
They only have three people in the hall of fame
They have only seven retired numbers
They have never had the NFL defensive or offensive player of the year
They have never had the NFL MVP
I am a fan of the Patriots – you could say it is because I am from Boston. That is certainly part of it but not all of it. They have won recently because they have been over-achievers. They clearly NEVER have the best individual talent. They are able to mold players and make the team a winner. They have won in an era that it is very hard to keep players. They have been able to lose star players and coaches year after year and replace them quickly and continue to have success.
This team is 14-0 and quite possibly could have the first undefeated team in over 35 years.
How do you feel about them?
Aren't they loveable?
Don't you want to cheer them on?
Don't you want the record to fall?
I do. What about you?
I look forward to reading your comments.