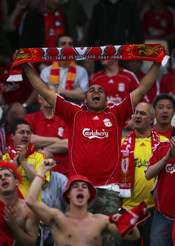 As most of the readers know I am a sports fan. That's not exactly true. I am a HUGE sports fan. That feels better and is probably more appropriate. I have literally gone to hundreds and probably thousands of events and have the ticket stubs to prove it. Something recently happened that I wanted to share.
I was at the recent NBA game between the Dallas Mavericks and Phoenix Suns. The game was played in Dallas and was the featured game between two of the top teams in the western conference. At halftime I was walking around the arena for a while. I returned to our company seats which are five rows off the court. As the third quarter started, I began hearing this loud voice a few rows behind me yelling, screaming and rooting for the Phoenix Suns. This fan had a beer in his left hand and his girlfriend on his right and was wearing a Suns shirt showing off his muscles. As the game went on this guy kept yelling at fans and some people started to yell back while others couldn't be bothered. Lots of people were yelling at this guy to sit down. I didn't notice but apparently he was standing the entire game and was taunting the Mavericks fans. A number of ushers came over to this fan (at least twice) and politely asked him to relax a little bit and sit down. His quick response was "I PAID $600 FOR THESE SEATS AND I CAN DO WHATEVER I WANT". First of all let me clarify he must have purchased them through a scalper because the seats aren't close to that price. As the game continued I saw two older ladies seated behind him calmly ask him to sit down so they could enjoy the game. What followed was additional yelling, swearing and lots of other meaningless dialogue from this fan.
I turned to one of the guys I was with and said this is going to turn ugly and he has no shot of leaving here before a fight starts or he will get tossed out of the arena. We now have about seven minutes to go in the game and his girlfriend is trying to calm him down when all of a sudden I see an usher call for assistance. I lean over and say here we go. Two gentlemen wearing nice suits arrive on the scene and basically say, "Sir please come with me." He quickly waves them off and says "These are my seats and I can do whatever I want and did nothing wrong". They get out the walkie talkies and lo and behold, three police officers arrive on the scene to help. Frankly they didn't help – they needed to call in three more. The six officers proceeded to handcuff this fan and drag him up the stairs as he was swearing, kicking and yelling.
Let me say that I love the American Airline Center (AAC) and really enjoy the creativity of the marketing team from the funny videos, drum line and of course the Mav Maniacs (which are heavy set gentlemen–all who have big bellies–dancing around) Mark Cuban and his team do a great job with this. This situation never should have escalated and should have been dealt with forty-five minutes earlier. Mark, your ushers and security staff missed on this one. There were ladies and elderly people around this fan — all season tickets holders. Your season tickets holders and the security staff waited way too long.
I know that they make announcements prior to games that say you can't throw things or go on the field/court. But what else aren't you allowed to do?
What are the rights of this unruly fan?
What are the rights of the fans around him?
Has this happened to you?
I really look forward to hearing your comments and will be asking my friends AL and KT to respond since they work for sports teams.