First of all, congratulations to Stacey Weber whose stock pick ONXX went from $10.58 to $55.62 — a whooping INCREASE of 426%! Stacey I am sure I am not the only one who wishes they had bought thousands of shares. For winning the contest, Stacey will receive $250.00. And there will be $100.00 for G-Man, the lucky loser whose stock RFNS.PK went down the highest percentage in 2007.
To participate in the 2008 contest, here is what you need to do:
Respond to the blog with your stock name and if possible symbol
State the reason why you picked the stock you did
It's as simple as that.
We'll do the rest.
A few things to remember:
You need to respond by January 15, 2008
You can only have one entry
The stock price needs to be at least $1.00 – anything less will not be accepted into the contest.
Only one person can have a particular stock, so the person who responds first gets the pick and we will notify anyone who has a duplicate stock (we had at least 10 duplicates last year and I am sure there will be more this year).
If a stock splits, we will make the necessary calculation and adjustment
If the company you pick gets acquired during the year and their company doesn't have their own stock price, you won't be counted in the contest
We will use the stock prices as they were at the time the market closed the last trading day of 2007.
Like last year we will post a leader board.
First prize will be increased to $300.00 for the person whose stock goes up the highest percentage in 2008.
In 2007, we included a few surprises, and who knows…maybe there will be a few surprises in 2008 as well. Last year (in the name of conducting research for fun) we sent an online survey to those who picked a stock and were part of the challenge. The survey participants voted Apple Computer (AAPL), Google (Goog), and China Mobile Limited (CHL) as the best candidates for the highest increases in 2007. To make the research even more interesting, I purchased $500 of those three stocks with my own money with the intention of splitting the profits (less commission) with those who selected the stocks in the original contest. I assumed the risk for any losses. Not a bad deal at all.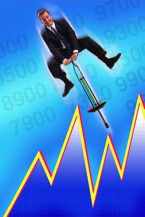 And the results are in! Congratulations to Stephenie Gordon, Elyse Gammer and RAMA. You will be contacted shortly with an update of your stocks and a check with your winnings since all these stocks went up last year.
I will get the ball rolling with my choice for the 2008 contest: American Apparel Inc. (APP – AMEX) This apparel company is in a position to have a strong 2008!
Take the stock challenge of 2008!
Get your entries in today! Again, the deadline is January 15th.