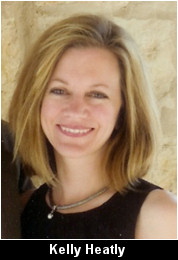 Have you– your avatar, that is–stepped into a virtual world lately? Are you familiar with Second Life?
If you are a marketer or market researcher who hasn't yet experienced this "other" thriving world out there, where avatars buy homes, shop for clothes, and even open businesses–check it out. You may be amazed to see the potential of the avatar-based market.
Is this the next frontier of market research? I think yes.
At the recent QRCA Conference, Jim Bryson of 20/20 Research delivered an intriguing presentation, "The Second Life Phenomenon," where he presented the magnitude and growth of virtual worlds like Second Life. Following his presentation, my curiosity sent me soaring into virtual world mania to dig deeper on the subject. It's truly fascinating–the implications for marketing AND marketing research are significant. And I believe we are only on the threshold.
(For a list of the top virtual world sites, visit www.VirtualWorldsReview.com.)
First, virtual worlds are growing. Subscriptions are on the rise, and it seems these sites are attracting a broader audience as we round the early adopter curve (currently half are under 30 and heavy male).
Second, advertising and marketing spending is increasing, expected to reach $150 million by 2012, up from $15 million in 2006 (Parks Associates, VirtualWorldNews.com 2007). Some companies have developed their own virtual worlds (i.e., CokeStudios.com), while others use existing sites as a communication medium. Example: New Second Life subscribers can join the Ben & Jerry's Community, outfit their avatars in a Cherry Garcia t-shirt, and teleport themselves to the Ben & Jerry's ice cream factory. (It's fun, try it.)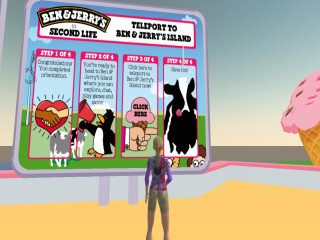 While a virtual world is a powerfully engaging environment for a brand, do avatars represent actual consumers? Does that matter? Avatars don't always physically or behaviorally represent their creators. Jim shared data from Global Market Insite (March 2007) about self-created avatars: 45% are better looking, 37% are younger, and 23% are a different gender. Hmmm…
Some experts argue that, as a creative self-expression, an avatar represents the "real" uninhibited consumer, displaying his or her psyche via the avatar. Market researchers can use avatars to uncover "true" perceptions, attitudes, and behaviors of the consumers who created them. I tend to agree, and I see two broad applications for virtual world market research:
In-World Brand Research: As brand presence in virtual worlds becomes prevalent, especially as consumers at large become comfortable with them, I predict we'll see more "in world" research supporting virtual world marketing. So, avatars (subscribers) residing in virtual world(s) of interest will become respondents for research conducted at in-world field locations (i.e., virtual focus group facility, mall location, in-home). Cool stuff.
Virtual World Research Platform: Aside from specific virtual world sites, avatars will become more commonplace across many applications. I envision online research platforms to soon include avatars in lieu of one-dimensional text chat. Online focus groups could eventually evolve into virtual (avatar) focus groups.
Sure enough, such research already exists. I discovered some fascinating research conducted by Thomas Kohler, a PhD student at Innsbruck University School of Management, Austria. For his dissertation, he studied "using virtual worlds for real world innovation" and conducted virtual focus groups in Second Life to support his research. His concept is brilliant: using avatars for product innovation. The "media rich environment" facilitates collaboration and "creative and highly involved users innovate in an anonymous and unconstrained setting." Indeed, it's a brave new virtual world.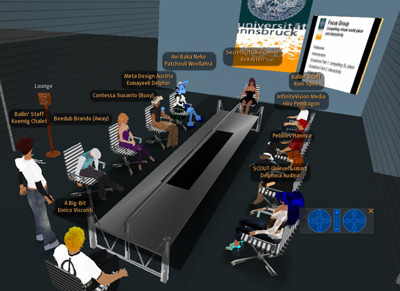 Do you think virtual reality is the next frontier of market research?
What do you think about avatar-based research?
What are your predictions?
I look forward to your comments.
###
Kelly Heatly is an independent Qualitative Research Consultant, providing full service qualitative research to suppliers and client-side corporations across a wide range of industries. Her services include research design, moderating, analysis, and reporting, working with clients in an immersive and collaborative style of partnership.
With more than 13 years of marketing research experience, Kelly has conducted qualitative research focused on new product development, brand essence, advertising, communications, brand positioning, website usability, and customer satisfaction. She specializes in focus group moderating and individual depth interviewing with expertise in eye-tracking studies, projective techniques, needs elicitation, idea generation, and concept testing. Her experience encompasses consumer and business-to-business studies for a wide variety of industries including CPG, consumer electronics, apparel, healthcare, financial, retail, travel & leisure, homebuilding, energy & utility, and industrial.
Kelly earned a BS in Marketing with an emphasis in communications from Louisiana State University and an MS in Marketing Research from The University of Texas at Arlington. She leads the UTA MSMR Alumni Association's student mentoring program.