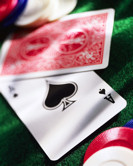 Growing up, I played cards very often. I remember traveling to Montreal, Canada and playing cards with my Aunt Freda as a child. I still play gin with my sister (yes LB – you beat me last month in Atlanta) and brother-in-law. Some of my fondest memories are playing poker. The game usually included my best friends Gary and Andrew. We played lots of different games with many wild cards. As I got older I was invited to play in a weekly game with Rick, Lippy and others which was a lot of fun. Over the years the crazy games of poker that had wild cards turned to Texas Hold 'Em. I have played a few times since I have been in Texas but not a ton.
I am going to Las Vegas at the end of January and planning to play in a hotel poker room and possibly a tournament.
I need your help. What advice or strategy do you have for me?
Have you played in tournaments?
Do you sit and wait and fold your cards until you had a read on the table?
How are you handling your betting when you are the small blind?
What about the big blind?
If you are in a tournament and get dealt a pair of aces, are you all in no matter what?
Should I wear sunglasses?
How about a Boston Red Sox hat?
What is your favorite hand?
Do you have a favorite website or book?
I really look forward to your comments and advice.