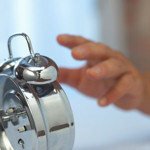 I was thinking the other day about routines and how they help many of us get through life. As I was thinking, I started to list the things in my life that I do routinely every day or every week:
When I am not traveling I arrive at work by 6:15am
I workout 5 times a week
I sleep in only on Saturday – which means I get up around 9:00 am
When I am in the office I try not to schedule more than 5 hours of meetings a day
I schedule our operating and executive meeting on Mondays
I have scheduled the monthly presentation to the company on Tuesday
I always arrive at work with 4-5 pages of notes containing a to do list for the day
I weigh myself everyday and if I have put on a few pounds – I will skip dinner
I don't like coffee but will have a cappuccino after going out for a nice meal
When I get to work I always check my Daytimer and Outlook calendar before I do anything else
For me routines are a good thing — they allow me to be organized, efficient and aware of what I need to do and when I need to do it. For me if something isn't a routine there is more of a chance that I will forget and ultimately won't do it.
Are routines a good thing for you?
What is on your list?
I look forward to reading your comments.