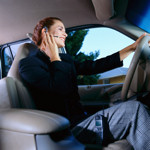 I was reading a very interesting article yesterday in USA Today. It was discussing what CEOs drive and what does that say about them. You may know that Sam Walton drove a pickup truck and Warren Buffet drove an older model Lincoln Town Car. A survey was done by Theladders.com , a job-search site for those making over $100,000 – and interviewed 3,000 people. BMW (13%) was the most popular make driven by the C-level executives on the survey.
I found some pretty amazing things mentioned in the survey:
7% said they have tried to hide their car from co-workers
5% of all execs timed their departure so more people can get a glimpse of their car
2% of C-level execs said they have pretended that someone else's car was their own
I was shocked as I read those things, thinking, "does that really happen?" I am not sure I recall a single time where a boss of mine pretended that they owned someone else's car.
If the CEO drives a car that is an older model — does that make them cheap?
If they drive a sports car, does that mean they live life in the fast lane?
If the CEO drives a minivan does that make them practical?
Do you know what your CEO drives?
What does that say about them?
I happen to drive a BMW — what does that say about me?
I am a little scared asking the last question but I do look forward to your comments.