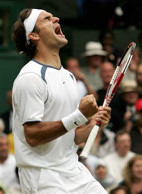 As you know I am a sports fan and have attended lots of games. Yes I have been to the World Series, a number of all-star games, the Stanley Cup finals, the US Open in both golf and tennis and tons of other sporting events.
When I think about sporting events, most of them are in the United States. Yes I have gone to a Canadian football league game. I've seen rugby on an island in the Caribbean. Yes I have gone to a bullfight in Mexico — something I would only do once and we left early. But not many others.
The question is if I could go to any sporting event anywhere in the world which one would it be? I have friends like Mike M. and Ed S. who love soccer overseas and beam with excitement when they talk about world cup games in other countries. Owen J. is the same way with soccer teams he grew up watching as a kid.
Is it golf's British open?
Is it the Australian Open or Wimbledon in tennis?
Is it the Monte Carlo grand prix in auto racing?
Is it the Olympics?
I think for me it would be Wimbledon. I love to watch tennis and that event looks incredible. I would love to go and watch tennis on the out courts and eat strawberries and cream for breakfast as I watch the matches. I am sure they have some type of store that is filled with memorabilia that I would like to look at for hours.
What about you — what would your choice be?
I look forward to reading your comments.