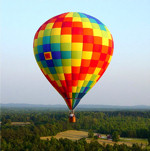 I used to play tennis all the time with a person who had the license plate WEIT. I remember looking at it for a few minutes one day and was trying to break the code – figure out what it meant. After a few minutes I was stumped and forced to ask my friend. Their response was "what ever it takes"! I thought to myself that is great. My friend was in real estate and was very successful–always one of the top performers in the office. Each and everyday the person would live by "what ever it takes" always going above and beyond for clients.
I read an article recently that reminded me of WEIT. The article featured Tommy Dean who works the concierge desk at the Four Seasons in Austin. He prides himself at doing "whatever" to satisfy his guests.
Yes he has played piano at a wedding when the pianist was a no show
Yes he made arrangements (rented a private jet) in a minutes notice when a famous guest wanted to go and visit the desert.
And of course Tommy once arranged a sunrise hot-air balloon ride for a young couple. The man intended to ask his girlfriend to marry him once they were aloft. There was one problem, however: Afraid to take the ride, she refused to go up in the balloon. Panic-stricken, the man called Tommy from the balloon. Their solution: That night, after a romantic dinner at the hotel, the couple returned to their room, where they found a miniature hot-air balloon—made by Dean from a truffle box that contained the engagement ring, and a helium-filled, red balloon—floating around. Dean said the girlfriend "howled with laughter at the sight of it, but her laughter turned to tears of joy when she discovered the ring and the real meaning of the entire day's events."
Tommy Dean's motto is "Do Whatever!"
Describe the last time someone did whatever for you?
How do you do whatever for your clients?
I look forward to your comments.