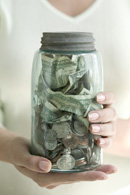 When we moved to Texas a few years ago, we quickly noticed that the house we bought had built-ins (which was really nice and was a look we loved). The problem was that none of our TVs would fit in these built-ins — not one. After being in mourning for a day or two–after I sold the two large screen TVs we had–I journeyed out and needed to find new TVs. We ended up purchasing all of our electronics from a place that had interest free options. This was a huge selling point for the customer service person and he kept repeating that we have interest free options which our competitors don't. Not only was it interest free, but it was interest free for 3 years–yes I said 3 years! Since we needed TVs in our new home, we signed the deal and the rest is history.
Last week I was paying bills and sent in the last payment. I noticed how much interest I had accumulated in the 3 years…over $8,500! Amazing. I knew when I signed up for the program that I would pay it off before it was due so I wouldn't pay the interest but…what if I was wrong? One of my friends had mentioned to me some credit card companies change the last payment date and try to have you miss the due date. Since I paid it off a month early I have no idea if this is true.
During the holiday season, lots of stores have interest free options. Interest free is great until you miss the final payment.
Has this happened to you?
Has this happened to anyone you know?
Do you look for interest free deals when you purchase items?
If so, I would be curious if it impacts your buying decision.
It worked out for us and I would certainly do it again.
I look forward to hearing your comments.