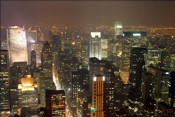 I was In New York last month and was on my way to dinner. Since I had some extra time and it was beautiful out, I thought I would walk the twenty-five blocks and five avenues needed to get there. As I was walking down the street, I was trying to take in all the sights from the cool decorated windows that some of the stores had to some of the people walking around. I also love to check out the advertising in New York — to me it is some of the most creative in the world.
I came across a billboard with a picture of Albert Einstein that read – As a student he was no Einstein. Confidence. Pass it on.

The billboard made me stop and think. I looked at it for a few minutes and then kept walking. As I got to the other side of the street I couldn't get the billboard out of my mind. It made me think further and then I decided to cross the street again and go back for another look at the billboard.
The question is…what does it mean?
To me, it meant that he never stopped learning. You can work hard and become smarter. People aren't necessarily born brilliant — you have to work at it. The question then was what does the word confidence mean here? I think it was saying that people need more confidence and if they have self-confidence, that can help them become smarter.
Words mean different things to different people.
What does this mean to you?
What do you think of what it means to me?
I look forward to hearing your comments.