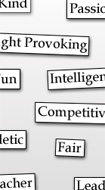 I tend to interview a number of people during the week. One of my favorite questions is to ask the candidate is, what would his/her boss say about them? What four or five words would they say to describe them? There are hundreds of thousands of words in the English language.
So here is today's question to try and accomplish in two minutes or less. Top of mind, what four-five words would you hope that people would use to describe you?
For me – I started with a list of 10 words:
Thought provoking
Teacher
Competitive
Passionate
Kind
Intelligent
Fair
Athletic
Leader
Fun
It was interesting and a challenge for me to narrow that list down to 5 words. After a few minutes I chose:
Leader
Passionate
Teacher
Fair
Fun.
I must admit it was hard. Here was my thought process. When I think about my life I always tend to have leadership qualities in everything I do. I find it very hard to turn that off and on. I tend to be very passionate and love life to the fullest and have fun each and every day as I accomplish my goals. I try to be a teacher and enjoy seeing someone grow as a result of something I may have said or showed them. My parents always taught me to be fair. That is a great quality to have and I hope people would use that word to describe me.
As I am typing away, I probably should have included goal-oriented in my list. As the day goes on I am sure I will have other words that I should have had on the list.
What's on your list?
What are the 4-5 words that you hope people use to describe you?
I look forward to your comments.