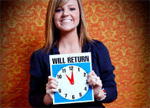 Let me first start by saying my kids are still young so I don't have any teens. The town we live in we found by accident. A number of people stressed…yes stressed for us to live in University Park or Highland Park. The area and homes were nice but not for us. We settled in Southlake which is absolutely beautiful. Our Town Center might be the nicest in the country or at least in the top ten. It is spectacular with great shops and restaurants, and the center is filled with little parks and fountains. Very nice. Apparently the area is now becoming home to teens – in fact lots of teens. The town is trying to do something about it. They are proposing a curfew for anyone under 17 to be out after 11 pm Sunday through Thursday, and after midnight on Friday and Saturday. There are a few exceptions if the teen is with his parents or traveling to/from a job or a school related activity.
Since my kids aren't that old, it should be very easy for me to vote. Although my vote might surprise you. I say no… I don't think it is a good idea. If there is a problem with a few, punish them. Find out who they are and take care of the situation. Don't make a law with a curfew to punish many. It makes no sense to me. It is the responsibility of the parents to be in charge of their kids. Not the town. In a recent newspaper article, the Police Chief states, "We're trying to head off a potential problem, it's also better to be on the preventative side than the reactive side." I understand his point but my vote would still be a no.
What would your vote be?
Does your town have a curfew?
What is your curfew for your teens?
I look forward to hearing your comments.