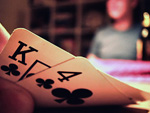 As I write this blog, my annual Super Bowl trip with my friends has come and gone. Yes we had fun, yes we got very little sleep, yes we saw Jerry Seinfeld (the show was just ok) and yes I played poker–in fact, Texas Hold 'Em! On the flight to Las Vegas, I felt pretty good that I had printed out the 13 comments from the readers of the blog and was prepared to read and study each of them in detail. I was able to do that and felt even better! We were staying at the Luxor, and like most poker rooms they have tournaments. I signed up for the 2:00 PM, $53.00 buy-in game. Depending on how many people joined determines the prize money. I was one of the first to enter (obviously I was very excited) and was instructed to come back a few minutes before 2:00.
The clock strikes 1:55 and there I am, ready to go, no sunglasses, a Red Sox hat and somewhat of a strategy. The tournament is about ready to start and basically for $53 you received $1200 in chips with no buy back opportunity. The blinds were $5/10 and would change every fifteen minutes.
My first few hands were horrible and I didn't play them at all. In fact for the first six hands, it was like I got a Two and Six unsuited every time. Finally I got some cards. In fact some pretty good cards. Queen and Jack of Clubs, suited connector….. I felt pretty good about them. The flop comes and it is a Two and Nine of Clubs and a Jack of Diamonds. The guy to my left bets first (I should mention there were only four players still in after the flop). He goes all in. I have about a minute or so to make my decision. One by one everyone goes out and then it is up to me. Here are my thoughts. I have top pair and a flush draw. I put him on a small pair. But I have no idea since he played a few hands and had lost some of his chips. I also thought there was a chance he was bluffing for the blinds which can be common early in a tournament. I came to gamble manned with your comments and called – I am all in….. very dramatic no doubt…. or at least in my mind. He has a Jack and an Ace. All I need is a Club and he goes home and I feel pretty good. Guess what happened? The turn and river didn't help either of us! No Club – and I lose $1100 of my chips and am now hanging on for dear life. I couldn't believe it! I know the percentages were with me. Two more hands and now I am short stacked. The next two hands I went all in and won the first and lost the second!
The entire experience took eleven minutes! Yes I was the first one out!
Where did I go wrong?
What would you have done different?
Did I really make a huge mistake?
I look forward to your comments.
P.S. – You may be asking yourself how I made the final table. I did since there were only ten players in the tournament and one table!!! Hence the way I made the final table!