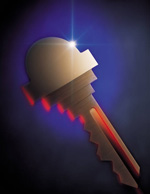 Most people want to be successful. The question is, how does that happen? How can you be more successful? Here are a few thoughts that might help:
Read all the time! In fact never stop reading. Concentrate on things happening in your industry, companies and names in the news. Focus on best practices that can help you with your job!
Ask, "What if?" Things change, and quite frankly things are changing all the time. If you have a system in place for more than 5-10 years, chances are very good that there can be some type of improvement on that system which will save your company money. This will also put you in a position to stand out and be noticed. "Why can't we do things this way? What if we tweaked this and do that?" Most successful people have these thoughts very often!
Push yourself – really push yourself! "Get better at something every day" can and should be your mantra! If you are a programmer, IT specialist or in new business development, you can get better. The question is, will you put the time and effort into getting better?
Use your friends and industry contacts! Most people don't realize that your friends and industry contacts can help you get better. Have you ever asked someone what is the one thing they think you need to improve on? Have you asked your best friend, "How did you accomplish this?" If you haven't, you need to.
Google, Google, Google! I tend to Google everything. I probably use it 10 times a day, and as a result am more productive and better informed. What do all these things have in common: Looking for a contact at a prospect company, interviewing a potential candidate for a job, finding out something about Omnicom, misplaced contact information for a friend of mine? I use Google to help my with every one of those scenarios. If using Google can give me the information and save me a phone call or time searching for the information, over the course of a week it could save me almost an hour. To me, this tool is invaluable.
Those are just a few things that could make you more successful.
What do you do to make yourself more successful?
I look forward to hearing from you and reading your comments.