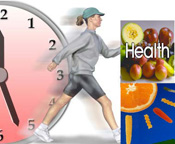 I never knew that there was a month that was designated Health Awareness Month, but a co-worker (thanks PW) mentioned it to me and it gave me reason to pause. Am I healthy? I feel okay. I have a pretty good support system: a scale that weighs me every day and colleagues (AB) who will point out without me asking if I have put on a few pounds. The problem is, weight doesn't always determine if you are healthy. (I have started to realize this later in life, but the real question is, "WHAT DO I DO THAT HELPS ME STAY HEALTHY")
Let me start by saying this is a scary post for me to write because I am putting the question out there, and I'm not sure how long a list of items I will have. Here goes:
I work out five times a week
I eat oatmeal five days a week (actually try NOT to skip breakfast)
I take Lipitor to lower my cholesterol–ok that's cheating…let's get that off the list
A few times a week I will eat a handful of unsalted almonds
Manage my caffeine–only one soda a day and I'm not a coffee drinker
Get an annual physical (very important)
See number one
See number two
It would be great to say I drink lots of milk, or eat lots of fruits and vegetables, but since I don't, I can't say that. When I look at this list it's pretty sad. I'm getting older and older every day and can't even get ten things that I do to stay healthy!
Sounds like I need to change a few things.
What about you?