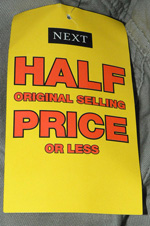 Okay, I will admit it. There are some things that I buy that I will bargain shop. No, I won't drive all over town, but I tend to buy a lot of DVDs and will go to Target, Circuit City or Best Buy depending on price. Like I said I won't drive 20 miles to do this, but all of those stores are within two miles of where I live so it isn't a big deal. I am sure a number of people (if not most) go through the newspaper every Sunday looking for deals or items on sale that they either need or are too good to pass up. In essence they love a discount, yes love a discount. The reality is where does it stop? Does everything we do or buy need to have a discount? Yes I will buy some things based on sale items like paper towels, mulch for our yard and bottled water for sure. Clearly I view those items as a commodity. But where does it stop?
Not a week goes by where I don't receive an email from a market research company not only highlighting their services but highlighting their discount. "Try us now and receive 20% off." "Use our services before the end of the month and receive a discount."
I realize that business is challenging these days, but isn't there another way to promote their services?
Doesn't it commoditize our industry and cheapen the value of research?
If I need a lawyer, am I going to go to them because they send me a 25% off coupon? What about going to a new dentist because I can save $10 on my next cleaning? The answer for me is NO, NO and once again No!. I consider those types of services professional and would never choose one because of price. I have never and will never choose a hospital because a surgery might be $400 less than another hospital. Don't we all choose those services based on reputation, quality of service and location?
Isn't the market research industry the same thing? Aren't we all professionals? Don't we want clients to use our services based on our service, quality and insight? NOT because of price! NOT BECAUSE OF A DISCOUNT. AND I WOULD NEVER USE A COMPANY FOR THE FIRST TIME BECAUSE A COMPANY SENT ME A DISCOUNT.
Would you?
How do you feel when you get one of these discount opportunities?
If your company does it (clearly your choice) what is your position and strategy?
I realize this might be a controversial posting but I really look forward to reading your comments and point of view.