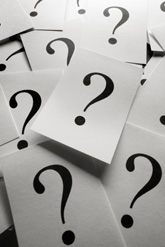 As you read this posting, the first quarter of 2008 is in the record books! Whatever you did or didn't accomplish is over! You can't get that time back! Here are nine questions that are going through my mind:
Is our revenue/profit on budget for the year?
Which new business development staff are ahead/behind on their goals?
What accounts are behind year to date?
What do our customer satisfaction scores look like?
Are our fixed costs in line with our budget?
How do our utilization rates look?
How is morale in the company?
How does our pipeline look for the next nine months?
How is our new strategy doing compared to plan?
What questions are you searching for answers to?
What questions should we all be thinking about?
I look forward to reading your comments.