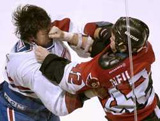 As you know, I love sports. When I was younger I went to a sports camp, lived at Fenway Park and loved playing catch with my dad. In addition, after school I would always be outside playing baseball, football, or hockey. It never mattered as long as we were laughing and playing a sport.
I am very lucky and have the opportunity to attend lots of sporting events. I still love going, but certain things really bother me about sports:
Ticket prices are ridiculous. The average fan can't go to more than a handful of games a year. I realize that teams need to make a profit but there have to be other ways than continuing to raise ticket prices and forcing the average fan to stay at home and watch the game on TV.

The World Series needs to start earlier. Yes, I hope the Red Sox are playing in late October…but not at 8:30 EST. That's too late. Start the games earlier so the next generation of fans can watch and love the game as much as I do. Since it is the World Series, you can still charge premium dollars for commercials.

Get rid of the violence of hockey. Yes I am old school and will admit I like a fight. But not a cheap shot! Not a stick to the head or a hit to the back near the boards. Cheap shots should be evaluated very closely and dealt with very strictly. ALL SECOND TIME OFFENDERS ARE BANNED FROM THE SPORT! No exceptions.

Have a salary cap in baseball–ok I said it. Yes it pains me since it would hurt my Red Sox but let's even the playing field a little bit. The NFL, NBA and NHL all have something that makes sense and appears to work. Let's do the same thing in baseball. Let's allow the smaller market teams a chance to win.

Stop the rising salaries in sports…now! The economy isn't great and these athletes are paid a ridiculous amount of money. I don't have as much issue with the superstars getting paid but I do have an issue with mediocre players getting a ton of money. It just doesn't make sense to me.
Those are a few things that bother me.
Do you agree/disagree of the things that bother me?

What's on your list?
I look forward to reading your comments.