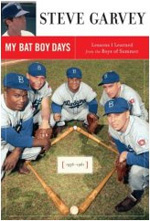 Over the past year, the Merrill Dubrow Book Club has read two books. It was to my surprise that the participants really enjoyed the experience. The time feels right for another book to be read. With summer, I thought people might be looking for a book to read, and why not have us provide that to them?
The book I chose was actually a present (thanks TA) to me. My Bat Boy Days: Lessons I Learned from the Boys of Summer. Steve Garvey wrote the book. I never knew he was a bat boy. I had been looking for a sports book that has a business connection and thought this might be the perfect choice. In the book Steve outlines and discusses leadership, fortitude, compassion, dignity and other things that he learned.
Here is what you are committing to do:
Read the book within 30 days
Post your comments along the way
That's it. That's all you need to do.
What we are looking for are ten people to be members of a book club. Once we have ten volunteers, they will be contacted by email and asked to supply an address (which will NOT be posted on the blog) where we should ship the book. There is NO charge for participating in this book club. We are just asking you to make a commitment and read the book in the next 30 days and comment when asked. If we have more than ten participants, we will randomly pick the people. You are not committing to reading any more than just the one book that we will supply to you.
I believe this book should be an easy read and appropriate to everybody
I look forward to hearing from you and having you participate.