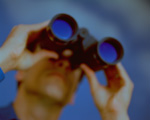 It appears to me that there is a shortage of good researchers in our industry. The MMR and MSMR Programs in the United States graduate less than 100 people every year with each graduate getting multiple offers.
When someone leaves your company unexpectedly what do you do?
For M/A/R/C we will do a number of things that breakdown into four buckets:
Use referrals from our current staff. This makes up about 15% of our new hires. People want to work with their friends and contacts especially if they are happy. We do have a referral bonus program in place that seems to work pretty well.
Pay attention at conferences — You can pick up some really good leads there. This makes up about 20% of our new hires. Once I get the attendee list, I will review the list a few times looking for clients, prospects and potential new hires. This has worked very well in the past. If you aren't doing this you might want to try it.
I tend to use industry contacts. If I call someone a friend, I put a very, very, very high value on our friendships. We can ask each other for favors and bounce things off each other knowing that the person asking the question will get a candid response — not necessarily the response they are looking for. I always rely on industry contacts for potential new hires and references. This has probably made up 50% of all of our new hires.
The other bucket is a miscellaneous one that contains ads, search consultants, advisory boards, presenting at colleges, conferences and makes up 15% of our new hires. Some of these things you need to do just to keep the buzz about your company fresh. For me, there hasn't been an immediate return with staff, but there have been some pleasant surprises like this blog recruiting a person whom I had lost touch with 15+ years ago.
Where do you look for new talent?
Have you had success putting ads in research publications or online sites?
I look forward to hearing your comments.