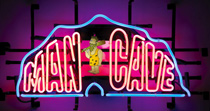 I remember the first home I bought in Ashland, Massachusetts. I was in my twenties and it had three bedrooms, two and a half bathrooms, was about 1800 square feet and had some really nice views. The thing that I remember the most and probably enjoyed the most was my basement. Back then, my basement was "code" for sports bar. It had two TVs and hundreds of sports pictures, ticket stubs and other memorabilia everywhere in the room. Yes, there was a bar and refrigerator and yes, we had some really fun parties.
Over the years my homes have gotten a little bit bigger, BUT for some reason my sports bar or "cave" has gotten much smaller. In my current home office I have about fifteen sports pictures hanging on the walls and that's it. In our media room (I wish that was my cave), I have about the same on the walls and according to Trish that is plenty. In fact, five too many. If I want to add another picture, there tends to be a negotiation that may include jewelry as a trade. I do understand her position since we do entertain quite a bit in the room.
Guys, my cave isn't that great. How is yours? Yes, I have a large screen TV, but frankly in my perfect cave I would have five TVs in it, a nice bar area, pool table, ping pong table, pinball machines, cigar room and many other things.
It would also include beautiful and very comfortable oversized leather chairs and couches.
With the cost of sporting events increasing each and every day (or at least it seems that way to me) and large screen TVs being very common, it seems to be that media rooms will be a code word for "man caves." I wish I had a big and better one.
Perhaps it is time for us to move.
What about you? How is your "man cave?"
If you could do whatever you want in your "cave", what would it be?
I look forward to hearing your comments.