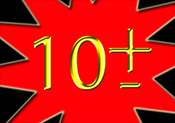 The contest is now closed. You can still take the survey to see how you fare, but there will be no prize. Click here to see the winners and check the right answers.
Six months ago, Amy Shields beat Dan Womack by only 13 points in this contest. Amy crushed most of the other contestants to gain her first title in How Well Do You Know Americans? "Power Of Plus or Minus 10″— the blog version of a popular game show where contestants try to accurately predict the respondent base's answers to intriguing poll questions.
Today Amy, Dan and others (I hope) will try and play a second round of Power of Plus or Minus 10. On one popular game show, the winner gets 10 million dollars — sorry but that won't be happening here. However, we will have a few lesser prizes for the top two people — assuming we get over fifty responses.
In case you're not familiar with the Power of Plus or Minus 10, a few months ago, M/A/R/C Research interviewed 5,800 Americans between the ages of 18 and 65. We built a database of their answers, and it will be your challenge to see if you can guess how our respondents answered the questions.
The way this will work is this: Please click on the link below and answer the 7 questions in our little survey. We will total your answers and when we post your response, we will tell you how far away you were. It doesn't matter if you are over or under the total. The top two people who are the closest in total to the seven questions will be the winners.
Click here to take the survey.
One change this time is that all M/A/R/C Employees can participate except myself, TA and anyone on our internal team who has seen the answers.
Look for the right answers and winners to be posted on May 19. Remember…the lower the score, the better.
Good luck to all!