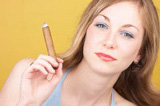 One of my favorite things as a kid was to sit out with the "dads" while they smoked cigars and pipes, talked politics and sports, and drank whatever it was at the time. Sure, there was a lot of bluster, competition and boasting, but that's part of the charm of the guys and, frankly, I was in awe of them with their European cars, high-powered careers and wry senses of humor. It was fascinating to listen to and cigars just solidified the mystique.
So, I've always loved the smell of a great cigar and the great memories associated with it. And, after all these years, I still sit out with my dad and the guys and soak up the cigar smoke, although now I get to partake in some great grappa, scotch, or whatever is on the agenda.
About a year ago, I was fortunate enough to make the acquaintance of a long-time news writer for USA Today, Bill Welsh. Bill joined my husband's band of merry men on their pilgrimage to Sturgis, South Dakota for the annual Harley Davidson week, and he's become a great friend since then. Bill is a man of the world. He's seen it all and written about it, often on the front page. He loves southern blues music, any and every bar, and can wring an interesting story out of just about anyone — he's a true master at work. But, more than anything, Bill loves his cigars. And, he always has great ones — Davidoff, Padron and numerous others.
At a recent dinner party, the guys headed outside to smoke (with me tagging along) and Bill turned to me and said, "You know, it's a shame more women don't smoke cigars." I'd always been tempted, but I just wasn't sure (being someone who had never even smoked a cigarette). I felt I was satisfied to live vicariously through the guys, but I figured what the heck. I was in.
As with anything, there is a dramatically different camaraderie when you're actually participating versus just observing. And, I have to say, it was great. I have a truly new appreciation for cigars and, I suppose, a new vice.
So, here's my question…
What's your favorite cigar and your beverage of choice to smoke it with?
Do you prefer something more robust, or smoother and more subtle?
Do you have an occasion where you had a truly incredible, one-of-a-kind cigar?
I look forward to hearing from you and your reading your comments.
###
Lynn Stalone is a partner with IHR Research Group and Restaurant Research Associates. Prior to being named partner in 1989, she was a senior analyst with the firm. She has extensive research experience in all facets of the foodservice and hospitality industries, though currently focuses her efforts on the company's phone center operations.
Lynn attended California State University, Fullerton under a double major of Biology and Marketing. She is currently involved with National Charity League and strongly committed to charitable causes supported by this group. Lynn is also involved in several committees for MRA and is immediate past president of the Southern California Chapter of MRA.