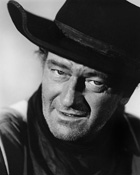 Over the years there have been some great tough guys. Charles Bronson, Chuck Norris, Steven Seagal, Sylvester Stallone, Bruce Lee, Clint Eastwood, Arnold Schwarzenegger, Bruce Willis, Al Pacino.
I must admit I do like all of the Lethal Weapon movies. Mel Gibson plays a tough cop in those movies and has played a lot of tough guys over the years in Tequila Sunrise, Braveheart and many other movies. Who could forget Robert De Niro in Raging Bull, Goodfellas and The Untouchables? He was amazing!
When I think about on-screen tough guys, they have it all: good looks, very impressive builds, careers that span decades, and look the part.
For me, my greatest tough guy of all time would be John Wayne. John made over 200 movies spanning 50 years. Think about that he did what he loved for over 50 years. WOW! Years ago I used to watch war movies every Saturday with my dad and it seemed every one of those movies had John Wayne in it. It didn't matter if bullets were flying or bombs were dropping he rarely died. I loved him in Green Berets, The Comancheros, The Alamo and my favorite will always be True Grit. He was and still is a movie icon.
Not only was he in 200 movies – he was always working. He made at LEAST one movie a year for 50 straight years! That streak may never be broken.
What is your criteria for a movie tough guy?
Who is your favorite tough guy of all time?
What do you think of my choice?
Who else should be considered?
I look forward to your comments.