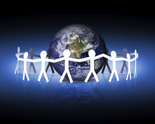 The contest is now closed. You can still take the survey to see how you fare, but there will be no prize. Click here to see the winners and check the right answers.
I just returned from an Omnicom meeting and there was a very interesting presentation. The speaker was Craig Storti, Director of Communications Across Cultures and he delivered a presentation on Developing Cultural Competence For the Global Workplace. During his very creative presentation, he had a few quizzes that I thought I would share with you.
Click on the link and fill out the twelve-question survey. The entire process will take less than two minutes and I will post the answers in a week.
The highest possible score is 12.
There will be a prize for the person who gets the most answers correct. If there is a tie, we will come up with a tie-breaker.
We will close this contest at 12:00 PM on Monday, June 16.
For me the questions were amazing about how little I knew about people and cultures outside the United States.
I look forward to hearing your comments and seeing if the same is true for you.