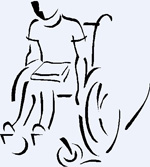 So there I am at O'Hare Airport in Chicago–one of the busiest airports in the world. I had about thirty minutes before I was going to board so I decided to sit down for a little bit to rest my tired body. The seat I happened to get was right next to where the flights board. As I am waiting there, I notice the plane I am about to board is exiting and all the passengers start to come off. I see a few people exit and then a short delay and few people get off who are now in wheelchairs. A few more people get off and then again a few more people are deboarding in wheelchairs. This same process continues for a few more minutes before I hear one of the agents say to another we are short 4 wheelchairs since we had 18 people on the flight who needed extra assistance.
I thought wow…yes, that's a lot of people but also that's a lot of manpower and extra cost to American Airlines for needing to handle the situation. Since I never have needed a wheelchair for myself or anyone else, I was curious if it is free. After speaking with an agent at the airport and confirming this on the phone earlier today with American Airlines, it is FREE.
But for how long?
Clearly there is a cost to the airline for this service based on extra staff that they may need or extra wheelchairs that they need to purchase not to mention the space to store the wheelchairs.
With airlines dealing with rising fuel costs and trying to make a profit, will this service always be free? Airlines now are charging for food, window seats, and earphones, so why wouldn't they eventually charge for wheelchairs?
What do you think?
Are there any other services that companies provide for free now that you think they might charge for down the road?
I look forward to your comments
P.S. I don't believe airlines will charge for this service…or at least I hope they don't, since I am getting older and will need one in a few years!