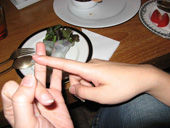 As most people do, I love to get gifts — but different types of gifts. Not mainstream stuff. So there I am one day and walk by the cube of a co-worker and lo and behold he (thanks FS) hands me a gift that he thought I would enjoy. It was a book. But not just any type of book. It was different than most of the books I have, which tend to be business, motivational, or sports books. This book was very creative and its title was Not Quite What I Was Planning, Six Word Memoirs by Writers Famous and Obscure.
The book was fascinating and got my creative juices flowing. Here are a few from the book that I thought I would share:
When talk matters, make it count
Pay attention to me go away
Ran east, ran west, ran late
Open road, no map. Great Scenery
Afraid of everything. Did it anyway
The book really gave me a chance to pause and think about trying to put some of my own together. Ok — let me start by saying I am not a pro at this but merely trying to make some sense of some thoughts on life stated in exactly six words. So here goes:
Teachers are very important, thank you.
Passion is so important to me
Sports, competition. That says it all.
Family, friends, work, play. All meaningful
Boston to Dallas. Life in session
Now your turn. Close your eyes take a minute or two and think about six word phrases that mean something to you or describe some type of experience.
I hope you have fun with this — let me share a little secret…I had a BLAST!
I look forward to hearing from you and having you share your thoughts.