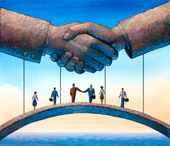 Lots of companies have partnerships. Done right, it is a way for each company to increase their revenue and establish a win/win with the right partnerships.
Recently, Peanut Labs–which provides access to members of social networking sites–has partnered with online gaming community Acclaim Games to enable the latter's members to take market research surveys in return for in-game items such as weapons, clothing and character boosts.
At first, I must admit I was taken aback for a second when I thought about getting weapons for surveys, even if they are just for online games.
My kids have Webkinz and get points and items such as clothes and food for their stuffed animals by playing online games. Amazing that my kids are as good and fast on the computer…but I digress and that is probably a topic for another time. After thinking about it for a few minutes I am ok with the Peanut Labs partnership with Acclaim Games. Even though I have never heard of Acclaim Games, I am assuming it is a reputable company. I believe this is a creative way for Peanut Labs to reach a very difficult but important respondent pool and good for them for finding a way to do that.
The real question is what partnerships am I ok with?
What if an online research panel company partnered with a real gun company?
What if they partnered with a company that didn't have a great reputation or all of a sudden fell on hard times? Does that affect your perception of the company in any way?
What do you do when one of your vendors partners with one of your competitors?
Interesting questions for sure.
I look forward to hearing your thoughts and comments.