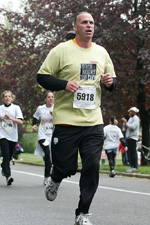 I can still remember the dinner conversations growing up and my father instilling the message into our heads. You need to give back to your community. It is not only about your money, it is also about your time and your commitment. Devote at least 10% of your yearly income and more important, devote at least that amount or more of your time. He lived these thoughts and truly believed in acts of charity and kindness. I can still hear his message echoing in my head.

A little over a month ago, I had my first experience in a charity race. Although I have participated in many charity events, this was my first actual race to raise money for a charity. It was a regional 5K Race for the Cure for Susan G. Komen. I have to tell you that it was one of the most moving charitable opportunities that I have been a part of. To be in a pack with over 7,000 people, who all shared the same goal of raising money for a very worthy cause was very powerful. To see the energy and commitment that went into organizing this event was incredible. To see the camaraderie of the survivors and hear their stories was unbelievably moving. To add to this, I was able to share this event with my 2 kids, who ran with me.
Here are some of the details of the race. Yes, I finished it and just under 30 minutes. I ran a good portion of the race shoulder to shoulder with Governor Jon Corzine (NJ), passing him with about 1 mile to go. I did beat my two kids — barely. The event rose over $1,000,000 — incredible indeed. I was really touched by all the friends and family who donated on my behalf. The amazing thing was the number of people who donated, not so much the amount they donated. I so appreciated this support.
As a family, we have done many charitable events together — Relay for Life (American Cancer Society), working in soup kitchens, park clean-ups, etc. As they become adults, I hope my two kids have that same message echoing in their heads just like I do. And with a little luck they will instill that same feeling to their children.
As I continue to instill this message to my kids, I am looking for other types of charitable experiences.
Please share some of your experiences and what they have meant to you.
Should we in the marketing research industry, specifically MRA, find a worthy charitable cause to raise money for?
Corporate charitable giving is also a passion of mine — are there any interesting corporate charity events that you have participated in and what were those experiences like for those that participated?
Merrill, thanks for allowing me to guest blog and I look forward to the comments.
###
Steve Schlesinger is CEO of Schlesinger Associates, a global data collection company specializing in qualitative research, with 14 offices in the US and 2 in the UK. He has also served for the past 7 years on the board of the MRA, currently serving as the secretary. He is an active member of AMA, CASRO, CMOR, ESOMAR and PMRG. He also serves on the board of trustees of the Overlook Hospital Foundation.