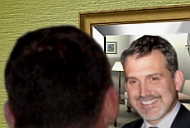 As you read this post there are less than 130 days to go in 2008–130 days until the clock strikes midnight and we all welcome in 2009–130 days to make something happen this year. Clearly the state of the economy is very challenging…maybe the most challenging readers have ever faced.
As August comes to a close, you might be missing your goals. Frankly you might be missing your goals by a tremendous amount. You might be missing your personal goals by a ton and have absolutely no chance of hitting them or even coming close… or at least it feels that way. My reaction to the past few sentences is "so what?" Maybe all that is true, but until December 31, 2008 is upon us and you go to sleep, you never know what can happen. Sometimes surprises happen. There have been so many times I have been involved with a proposal or a piece of business that I thought we never had a chance to win and lo and behold when the client made the decision we were the victor. Things can turn around quickly as long as you keep focused, keep trying to make things happen.
It is very easy to throw in the towel when you believe your goals are not within reach. It is very easy to not work as hard as you did in the beginning of the year because of the economy or what is happening to your clients. I say do the hard thing. Keep working as hard as you did early on and who knows? At the end of the year you might surprise yourself and your company.
At the end of the year no matter what the numbers may suggest, I want to make sure I can look myself in the mirror and say that I did everything within my power to have a good year. If I am able to do that and we miss our numbers I will be disappointed but not angry with myself. My hope is that everyone at M/A/R/C Research can do and say the same thing.
So I ask you, "Can you look yourself in the mirror at the end of 2008?"
I look forward to your comments and thoughts.