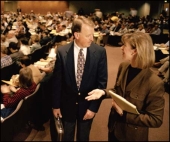 In a few months, the colder weather will be upon us. For folks who are fortunate to live in Texas, that means it will be 85 degrees and beautiful. It also means that the conference season is here as well. Within an eight week period, the AMA, CASRO, ESOMAR, MRA, PMRG, QRCA, The Research Industry Summit and The Market Research Event and others will all happen.
A few questions since the economy is very challenging right now:
How will conference attendance be affected?
Since there seems to be more conference choices than ever, how will that affect attendance?
With so many conferences having overlapping dates, how will that affect attendance?
With companies exhibiting, are they planning on bringing fewer people than before?
Are companies planning on doing more internal training as a replacement for attending conferences?
For us, we are probably sending the same number of people in total but spread out over more conferences. The overlap of conferences for me will probably cause me to miss The Market Research Event for the first time in years.
Are you concerned?
What are you planning on doing?
I look forward to hearing your thoughts and comments.