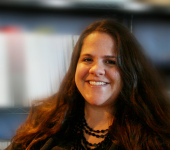 When I was asked to be a guest blogger, I was torn on the subject of my entry:
Should it be related to:
What I do as a creative director
My experience as a working mother with 2 1/2-year-old twin girls.
What I've done to combat the effects of the economy on my families grocery bill. My quest for coupons and the satisfaction felt in saving $108.00 in one grocery-shopping trip.
My self-admitted obsession with reality TV. I have no shame in indulging in hours of Project Runway, Shear Genius or Biggest Loser and American Idol.
Even with all these, true inspiration still eluded me. As each day went by, none of these topics were inspiring me to run to the computer to tap finger to key.
And then it happened. The 2008 Beijing Olympics Opening Ceremonies. I know what you are thinking: Not another discussion about politics and the Olympics. Nope. It wasn't the amazing history of the Olympics either. Or the incredible athleticism and dedication of all the athletes. It was the creativity that got me off the couch, leaving my family, still watching in awe.

It was the unbelievable attention to detail when it came to the vision and creativity that went into the conception, planning, and execution of this massive production. I was captivated by the details in the story it told and how it all unfolded and the transitions it made between all artistic forms: performance art, choreography, costume, colors/lighting, timing, music, illustration, technology, martial arts etc. It was awe-inspiring, and just the thing that made me jump up off the couch and run to the computer to blog about it.
Attention to detail is something I'm familiar with in my day-to-day passion for the work that I do. I feel it is one thing to be creative, but it is a whole other thing to be creative and also put the crucial, and in some cases tiny, details and thoughts into an already solid creative concept. This, is where the magic happens. And in the case of the production in Beijing, it was inspiring.
My favorite part was when the dancers started to draw on that big screen as they performed, and how that drawing then was enhanced when the children added their emotion to it. I particularly enjoyed how the athletes walked across enormous sized ink pads and their footsteps added color and motion to the entire piece of art… it involved many, in creating this piece of art. The thought and detail in that one snippet alone of the production was a really amazing work of art. One that the entire world witnessed being created — in real time. This is what I think art is all about.
What do you think of this production from a creative perspective?
What "detail" was your favorite part?
What "detail" was your least favorite part?
Do you have any secrets or best practices that you use to be detail oriented?
I look forward to reading your comments.
Chime in.
###
About Lisa Goin, Creative Director at AvreaFoster
As Creative Director, Lisa draws on nearly 20 years of advertising/design experience to help continually raise the bar on the creative work produced for her clients. Lisa works on many accounts, in industries ranging from technology to healthcare. This wife and proud mother of twins enjoys "jumping in and problem-solving." She holds a bachelor of fine arts degree from Kansas City Art Institute.