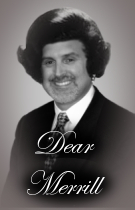 As a result of the blog I have been getting more and more emails weekly regarding potential topics, advice and questions. Here is one of the emails that I thought I would share with you.
Dear Merrill's Blog:

I'm a research telecommuter now after a long stretch as a research 9-5er. My former company was quite opposed to the practice. As a manager and salesman, I think this is the best thing ever. What I've I found, honestly, is that mentally I'm at 50% or so work-wise, but I'm on duty 100% of the time. What makes it work is that can 'turn it up' to 100% work mode at any time. This approach allows me to communicate smoothly with clients and colleagues all over the world and I'm much more productive overall than I ever was.

But here's the thing: is there a risk I might become addicted to work?

Sincerely,

Fred Tele-commute-a-holic
Are you in the same situation?
What advice do you have for Fred?
Both of us look forward to hearing your comments.
P.S. – the name has been changed