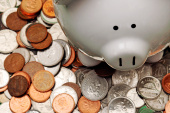 Over the weekend I was reading an article about the need to teach your kids about finance at an early age. It was a very interesting article and gave me reason to pause. I had a flashback to when I was a child and remembered all the times I cut lawns or shoveled driveways for some cash. I tried to remember "way back when" about what my allowance was and what chores I had to do to get my full allowance on a weekly basis. Unfortunately with me being so old, I had trouble remembering what I received.
With my kids being so young, I haven't started to give them allowance. Maybe that should change? Maybe we should give them $2.00 a week and their chores should include:
Cleaning up their room

Feeding the dog

Watering the flowers

Cleaning up the pool area

Not leaving wet towels on the floor

Making their bed
Of course we could come up with creative chores like:
Not crying

Not irritating their baby sister

Calling their grandparents weekly

The question is, when do people start giving their kids allowance?
What chores do they have to do?

How much do they get?

How does it vary by age?

How much do they get penalized for not doing something?
And the most important question:
At what age does the allowance stop?
I really look forward to reading your comments.