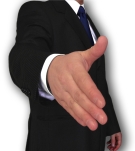 A few weeks ago, I had the opportunity to spend time with one of our clients. This client (who is a financial institution) has lots of research suppliers, but for this meeting they only invited their key research partners to a three day meeting. Thankfully, M/A/R/C Research was one of the three companies invited to attend.
The meeting was great. Our client and partner had presentation after presentation that was filled with strategy, open discussion and included all of the current challenges in the industry and they needed our help moving forward.
One of the most impactful things they said was
"WE WANT FEWER, DEEPER, MORE MEANINGFUL RELATIONSHIPS WITH OUR RESEARCH PARTNERS".
When they said this I almost jumped up and said YES! It took every ounce of strength not to scream how excited I was when I heard this.
The reason is, we have been discussing the exact same thing for a few months and have been working with our team through strategy sessions and constant communication to ensure that everyone not only is on the same page but knows how to achieve this goal.
With the current economy being very challenging, every company needs to listen to their clients–now MORE than ever. Client needs are changing very quickly; their needs are clearly different than a year ago or even different than three months ago. When they change their strategic direction, you need to be there.
The only way to do that is to be in constant contact with your clients, ask the right questions at the right time and react the right way in a timely fashion!
What are you doing to develop deeper, more meaningful relationships with your clients?

From a client perspective, how are you working with your research partners to develop stronger and more meaningful relationships?
I look forward to having you share your thoughts.