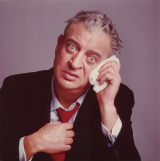 Yes I love to laugh as most people do. Over the years I have been fortunate to go and see some great comedians. I can still remember being in San Francisco years ago with KW and seeing a young Robert Townsend or seeing Rodney Dangerfield in LA. Or there was the time I went with JW to see Jackie Mason. I must admit I love his humor and accent. Very quick and fast paced.
Recently I saw Jerry Seinfeld with five of my friends in Vegas and although I really love him, his show was very disappointing. A few years back I saw David Brenner as he was attempting to make a comeback and was disappointed to see him read his jokes off index cards. The best part of the night was asking an usher to give a note to David asking him to come out front and meet a few of his fans. He obliged and was very nice. I remember seeing Roseanne Barr in Boston when she was just starting out and doing her "domestic goddess" routine. Old timer Buddy Hackett was funny. He invited us back stage after a concert and one of my friends was sitting in "his" seat and he wasn't too happy.
Here are a few of my favorites in no particular order:
Bill Cosby – very classy, funny. I love the faces he makes and how he looks at things.

The late Sam Kinison – He was wild looking, crazy, fast paced but I love him.

Rita Rudner – Saw her in a Vegas. She was soft spoken, very funny and her act was very clean.

Dom Irrera – You may not know who he is but believe me…VERY funny. I must have seen him ten times in Boston and another five in Philadelphia.
Without question my two favorites are:
Billy Crystal – enough said. GREAT performer. Would travel hundreds of miles to see him.

Robin Williams. Just thinking about him makes me laugh. He has great voices and mannerisms.
So that's some of the folks on my list.
Who is your favorite comedian?

Who performed at the best comedy show you have ever attended?
P.S. I didn't even mention Carrot Top!