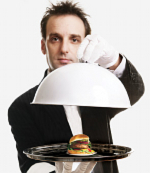 As you know, I love to eat. No…really I do….I really enjoy eating, and lots of days I eat a lot.
As you know I am a creature of habit. I take my dry cleaning to the same place, get my groceries at the same supermarket and usually go to the same restaurants for lunch. Well I have started noticing a trend: smaller portions and bigger prices.
The first time I noticed it was at a restaurant called Brio. I really enjoy the food and atmosphere…and the location (two minutes from my house) can't be beat. I noticed all of their entrees went up a few dollars which I totally understand. I also noticed that their portions got smaller. I was in a local Italian restaurant two weeks ago and couldn't believe how small the spaghetti side dish was. It was literally three small bites and the portion was gone! No exaggeration. Three bites!
Last week I was eating with AB and RW at a restaurant called Best Thai and guess what? All of the prices went up $2.00. The egg rolls went up $0.50 each. Again I really have no issue with this (they need to make a profit) but once again I think the portions are getting smaller.
Are you noticing this as well?
I am really curious if different parts of the United States are experiencing the same thing.
I look forward to reading your comments.