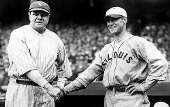 In the business world you say hello and then most of the time shake hands. You haven't seen a friend in a long time? The same thing could happen: a big hello followed by a big handshake. Who knows? Maybe even a hug.
The other day I was watching a sporting event. Okay, it was game four of the Redsox/Angels playoff series. And as the game ends there is a huge celebration from the Redsox, followed by looks of disbelief on the Angels' players' faces followed by lots of interviews followed by even more disbelief and frowns from the Angels' players, followed by lots of champagne flowing (in case you were wondering it was forty-eight bottles of Korbel for the Redsox celebration–sorry I digress) and even more interviews.
These teams played a playoff series for four games and never a handshake at the end of the series. Why? To me that is very odd.
Let's review other team sports:
Hockey – after the teams literally pound each other in the playoffs, the teams ALWAYS shake hands at the end of the series.
Basketball – after the series is over, both teams usually meet at center court and shake hands, hug and share a few comments. No it isn't as formalized as hockey but they still do it.
Football – at the end of any game and especially in the playoffs, teams exchange handshakes and in fact the coaches will push people (lots of people including cameramen) out of the way to shake each other's hands.
At the end of a volleyball match the opponents shake hands! I can go on and on.
But not in baseball.
As you know, I am a huge baseball fan. For the life of me I don't know why baseball players don't shake hands at the end of a playoff series.
What is the reason why baseball players don't shake hands?

Do you think this is some unwritten rule from 1910?

Have you noticed it as well?
I look forward to reading your comments.