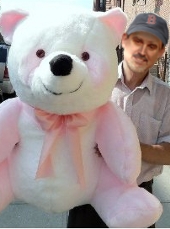 Now that fall is here in Texas, that means a few things. Football is on everyone's mind and of course the State Fair of Texas was just in town. As with every fair comes bad food for you that tastes good, a petting zoo and of course lots of games. Over the years I have been to a number of state fairs and carnivals and always try my luck at what usually are very hard games to win.
Of course there are the toss the dart at the balloons, pick the floating duck, knock down pins game, and toss the softball and make sure it stays in the bucket game…none of which I ever win, and none of which I ever come close to winning. I remember my younger days when you would always try to win to impress your friends or a girl that you were with. Now when I am with my kids they want "Daddy" to play and win the game so they can get the big prize. Well that isn't possible for me; I have never ever won the big prize at a state fair. The closest I ever came was playing the fill up the water balloon game and the first one that makes their balloon pop wins. I think I won twice in a row and got up to the medium prize. By the way, did I mention I was playing against 10 year olds? Ok that is really sad – but true!
Have you won the big teddy bear?

What is your favorite carnival game?

And of course I need to know: What is the easiest game to win?
I look forward to your comments.